DOCGO'S MOBILE HEALTH BRINGS CARE TO YOU AND THE COMMUNITIES YOU SERVE
Our vertically integrated, technology-enabled care delivery model increases access and improves outcomes by meeting patients where they are.
ONE OF THE LARGEST MEDICAL TRANSPORTATION FOOTPRINTS IN THE US AND UK
We bring patients to care when they need it most, with next-level efficiency and effectiveness.
WHO WE SERVE
HOSPITALS & HEALTH SYSTEMS
Our medical transportation platform improves patient flow with a combination of dedicated vehicles and multi-provider network dispatching capabilities rooted in our proprietary AI-driven technology.
STATES & COMMUNITIES
DocGo's population health programs bring mobile clinics, care teams, and home visits to underserved populations, while our 911-dedicated ambulance services take emergency response to the next level.
PHYSICIAN PRACTICES
DocGo goes beyond the clinic walls in between Primary Care Physicians and specialist visits with Total Virtual Care Management for chronic conditions and On-Demand house calls for episodic needs, empowering patients to manage their care and achieve higher rates of success.
INSURANCE PARTNERS
DocGo's member engagement, home visits and telehealth services are key to closing gaps in care for their hardest-to-reach members. Our programs are proven to reduce costs and positively impact HEDIS measures for a higher quality of care.
BUSINESSES & EMPLOYERS
DocGo's virtual, onsite, and in-home health care programs get new hires ready for work faster, keep employees healthy on the job, reduce costs for self-funded plans and offer a top-tier health benefit that helps businesses compete for top talent.
HOW WE SERVE
TECHNOLOGY-POWERED MOBILE CARE DELIVERY
Every day, thousands of DocGo health care providers engage with patients. Our proprietary, fully automated mobile health dispatching platform routes clinicians to patients with real-time availability and AI-powered efficiency. Our Sharelink™ technology provides real-time vehicle GPS tracking and arrival times to keep patients and providers informed.
SELF-SERVICE ACCESS TO CARE
Self-service web and mobile apps with EMR integrations enable organizations to order medical transportation and On-Demand mobile health services instantaneously. Connected hardware allows patients to remotely log and securely send their own health data to remote providers.

DATA SECURITY & INTEGRATION
DocGo's medical records management systems are ISO 27001 certified, HIPAA-compliant, and capable of interfacing data to state public health database and leading health system electronic medical records (EMR) systems, including Epic. We seamlessly connect our technology and reporting platforms with our customers' existing IT infrastructures and staff workflows, eliminating extra time spent on care coordination, paperwork or data entry.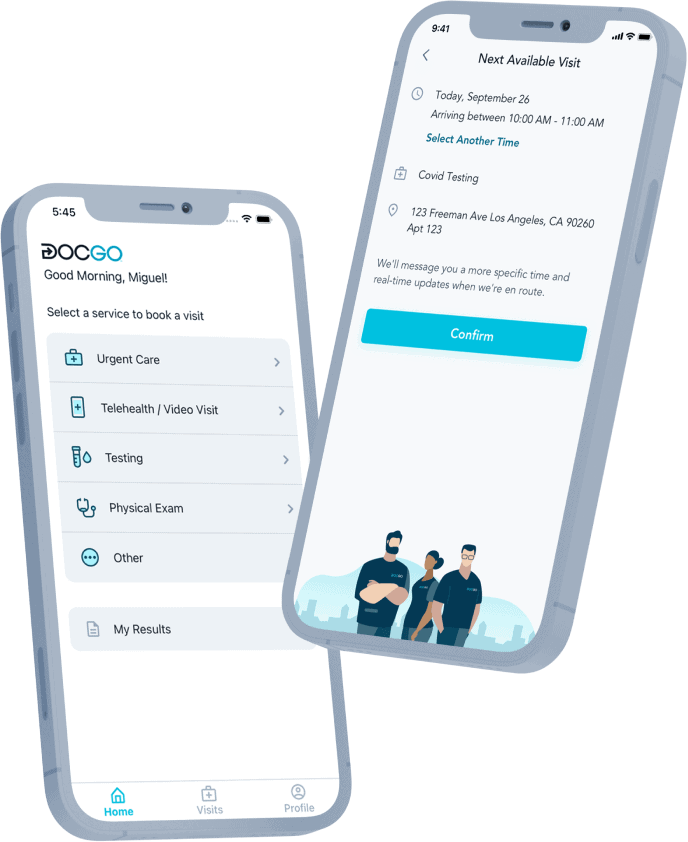 OUR
TECHNOLOGY
DocGo's proprietary technology is what powers our operations, enables an amazing patient experience, and provides the data our clinicians need to deliver high quality mobile health care at scale.
WHAT WE OFFER
DocGo delivers high-quality medical care outside traditional hospital or clinic settings across our service lines: Mobile Health Care, Medical Transportation and Remote Patient Monitoring/Chronic Disease Management. We're bringing the future of healthcare to patients' doorsteps.
Our Mobile Health services provide care directly to patients when and where they need it, how they need it. Care can be administered directly by our licensed clinicians in a patient's living room, by telehealth via web and mobile apps, or by mass-scale population health programs for communities.
Our services are built to anticipate health needs and provide proactive solutions to improve patient health. Because resting comfortably at home is always our desired outcome.
DocGo is one of the largest medical transportation companies in both the US and the UK. Globally, we have more than 4,500 full-time medically trained field staff and a fleet of over 1,000 ambulances and support vehicles.
DocGo transports more than 600,000 annualized patients every year, bringing medical transportation into the digital age.
DocGo's Total Virtual Care Management (VCM) and Remote Patients Monitoring (RPM) services offer Primary Care Physicians and other medical specialists consistent visibility to their patients' health data to inform care plans and improve patient compliance with care.

Better chronic disease management through our VCM/RPM services helps patients manage their conditions, and helps our partners avoid the high costs of untreated chronic disease.